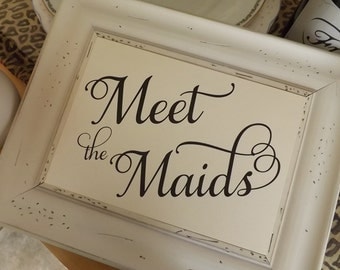 'ello lovelies! I haven't written in awhile because, well, life. School is out for summer (for the kids anyway -
blast you, higher education!
), Peyton and Chris flew to Washington DC and back, my brother's wife
had baby boy #2
(omgomgomg I'll show you his precious little chubbiness soon), Chris and I are working on cleaning out the storage so we can have a garage sale, and we've been binge-watching
Game of Thrones
like the mad king himself is forcing it upon us and threatening death. No really, it's serious business.
SO. That being said, all those fabulous adventures should really be documented, mostly so that my
feeble
aging
busy mind won't forget them. Our wedding is nearing the double digit countdown, and what better way to document my adventures in nuptialing (hey, it could be a word) than to start
Meet the Maids Monday
?!
Katy and I have been friends since, well, birth, essentially. We first met in preschool - yes, you read that right: preschool - and have been adventuring together ever since. We've remained friends through two school districts,

178 different hair colors,

failed mutual friendships, many (many) failed relationships, trips to the lake, trips to the hospital, nights we may never remember, others we wish would die a painful death, and everything else that 24 years of friendship might entail. We cried at Disney World when we saw Cinderella's castle, and we set Bob Marley's bar on fire in Jamaica. We've been inside a car when it rolled upside down, and we've sat together in silence trying to get our lives right side up. She is a strong, fierce woman who has taken charge of her life and deserves every.single.positive thing that comes her way. Three years ago, I had the privilege of standing next to her while she said "I do" to her husband Jace

[my future hubs was also in attendance, of course, but admired me from afar because he had a date - ha!]

, and 3 short months from now she will stand next to me while I agree to love Chris forever. There isn't a single person on this planet who knows my heart the way that Katy does; we've said for years - we are soul mates. Those guys we love are just lucky to come in second!